Table of contents: Volume 14, Issue 1, 2023
R. Seiseh, A. Mayyas, H. Al-Sababha, W. Al Sekheneh, J. Popp
FTIR and Thermogravimetric Analysis of Ancient Mortar From Al-Amuwaqqar Early Islamic Bathhouse in Jordan for Conservation Use
[ Full Article – PDF] pp. 3-18
P. Tabak, B.Y. Büyükakinci
Risk Analysis of Restoration Works by Fine Kinney Method: An Evaluation over Masonry Civil Architecture Examples in Fatih District, Istanbul
[ Full Article – PDF] pp. 19-32
E. Flis-Olszewska
Microclimate Analysis of Two Historic Churches in Lublin – Optimal Hygrothermal Conditions for Preservation of Cultural Heritage
[ Full Article – PDF] pp. 33-44
Ó. Hernández-Muñoz, E. Sterp Moga, A. Sánchez-Ortiz
Stabilization of an Anatomical Wax Model of the Complutense Veterinary Museum with the Help of 3D Digital Technologies
[ Full Article – PDF] pp. 45-56
A. Nadolny, Y. Ivashko, K. Słuchocka, I.G. Sandu, P. Bigaj
In-fill Development Architecture, As Element of Post Second War Reconstruction of City of Poznan. Case Study of Joseph Stübben's Extension Plan of the City from Years 1902-1918.
[ Full Article – PDF] pp. 57-74
Z. Al Saad, S. Azaizeh
Re-establishing Context of "Orphaned" Museum Objects through Scientific Investigation. A Case Study from The Museum of Jordanian Heritage
[ Full Article – PDF] pp. 75-82
A. Łabuz, N. Borowiec, U. Marmol
Automatic Detection of Lusatian Culture Fortified Settlement Based on Data from Airborne Laser Scanning
[ Full Article – PDF] pp. 83-98
A. Pawłowska, A. Gralińska-Toborek, P. Gryglewski, O. Sleptsov, O. Ivashko, O. Molodid, M. Poczatko
Problems of Expositions and Protection of Banksy's Murals in Ukraine
[ Full Article – PDF] pp. 99-114
J. Czerniec, K. Kozioł, M. Jankowski, P. Lewińska, C.A.G. Santos, K. Maciuk
How to Find the Undiscovered? Anthropogenic Objects in Forest Areas: A Critical Assessment of Current Methods  
[ Full Article – PDF] pp. 115-130
I. Basista, E. Dębińska, K. Kozioł, J. Czerniec, M. Sosnowski
Micro-Morphological Analyses of Digital Terrain Model in Search of Traces of Ploughing on Archaeological Objects
[ Full Article – PDF] pp. 131-158
M. Chorowska, A. Legendziewicz
The Colors of Renaissance Architecture in Silesia from the 16th to the Mid-17th Century on the Basis of Selected Examples
[ Full Article – PDF] pp. 159-186
J.E. Cárdenas De La Ossa, G.Y. Flórezyepes, D. Hernández García
Analysis of Risk Management in Territorial Planning in Areas Susceptible to Slow Flooding. Case Study Rural Settlement "El Playón" Bajo Sinú (Córdoba, Colombia).
[ Full Article – PDF] pp. 187-200
K. Kozioł, J. Czerniec, K. Maciuk, M. Jankowski, C.A.G. Santos, P. Lewińska
Case Study of On-the-spot and Surface Medieval Objects – Verifying Current Remote Methods of Documenting Archaeological Sites
[ Full Article – PDF] pp. 201-216
T.V. Panyok
Art Education in Ukraine in Early 20th Century: Educational Techniques for New Formation Artists
[ Full Article – PDF] pp. 217-230
M. Janowski, A. Janowska, A. Nadolny, M. Mohammadi
Architecture of Polish Tatars – Local Identity and Heritage
[ Full Article – PDF] pp. 231-250
S. Janseitova, G. Suleyeva, E. Kurmanaev, S. Rauandina, A. Kosanova, B. Iskakov
Elements of Archaic Music Reflected in Petroglyphs as a Phenomenon of Cultural Heritage, the Original Source of Material and Spiritual Culture
[ Full Article – PDF] pp. 251-246
M. Hafizt, N.S. Adi, M. Munawaroh, S. Wouthuyzen, A.S. Adji
Coral Reef Health Index Calculation from Remote Sensing Data: A Review
[ Full Article – PDF] pp. 247-264
D.D. Pelasula, S. Wouthuyzen, W. Waileruny, A. Rubamlifar, F.D. Hukom, C. Matuankota
The Changes of Coastal Ecosystem in East Seram District, Maluku Province, Indonesia and Its Impact on the Julung-Julung Fish (Hemirhamphus sp) Resources
[ Full Article – PDF] pp. 265-280
N. Serdiati, M.S. Nurdin, V. Hasan, D.F. Mokodongan, M. Safir
Population Dynamic of Endemic Ricefish in Lake Poso Implications for Conservation
[ Full Article – PDF] pp. 281-294
J. Ahmed, B. Kathambi, R. Kibugi
Policy Perspective on Governance Standards Setting Using Community Participation for Sustainable Mangrove Management in Lamu Kenya  
[ Full Article – PDF] pp. 295-306
R. Singh, J. Sethy, D. Chatrath
Trends and Patterns of Illegal Wildlife Hunting and Trading in Uttar Pradesh, India
[ Full Article – PDF] pp. 307-316
M. Asril, Y. Lisafitri, A. Niswati, S.R. Dirmawati, R.H. Wibowo, S. Sipriyadi
The Potential of Phosphate Solubilizing and Plant Growth Promoters of Burkholderia Territorii ef. nap 1 Isolated from Acid Soils for the Conservation of Formerly Rubber Plantation Land  
[ Full Article – PDF] pp. 317-330
K. Khellaf, E.Y. Guergueb, S. Haddad
Beyond Static Colors: Soil Analysis of Barn Swallow (Hirundo Rustica) Nest's (Northeastern of Algeria)
[ Full Article – PDF] pp. 331-340
S.J.H. Larasati, A. Trianto, O.K. Radjasa, A. Sabdono
Bacterial Diversity of the Gorgonian Coral Plexaura sp.: Screening for Anti-pathogenic Property Against Nosocomial Pathogenic Acinetobacter Baumannii  
[ Full Article – PDF] pp. 341-350
I. Andriyani, H. Ernanda, S. Soekarno, E. Novita, R.F.S. Hidayat
Soil Conservation Model Using Intercroping Sengon-Coffee Method to Reduce Erosion Yield  
[ Full Article – PDF] pp. 351-364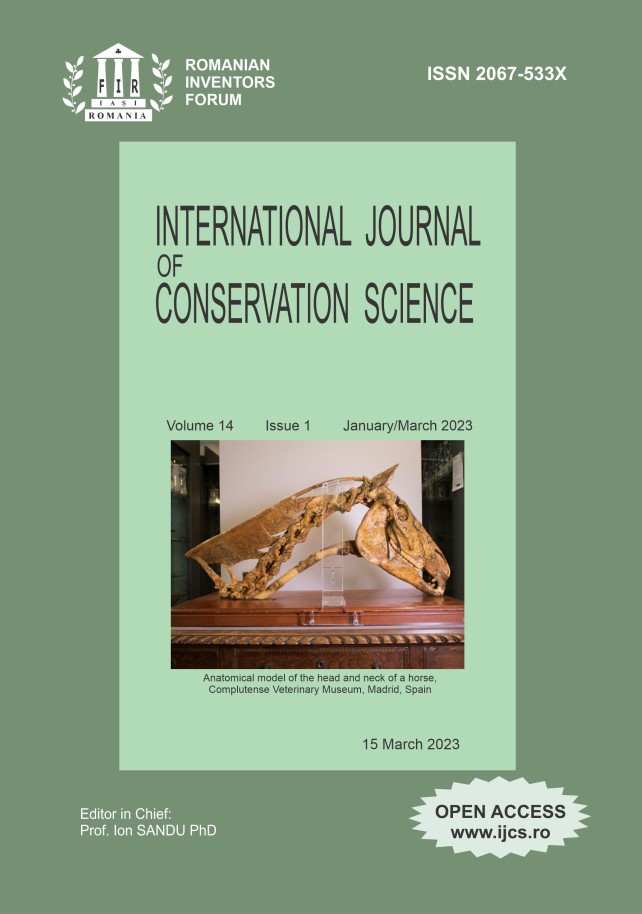 Publication date: March 15, 2023
---
Table of contents: Volume 14, Issue 2, 2023
Publication date: June 15, 2023
---
Table of contents: Volume 14, Issue 3, 2023

Publication date: September 15, 2023
---
Table of contents: Volume 14, Issue 4, 2023
Publication date: December 15, 2023
---